Vin Diesel wurde vor kurzem von James Gunn (Regisseur von Guardians of the Galaxy) zur bekannten ALS Ice Bucket Challenge nominiert und hat nach Erfüllung zu einer neuen Challenge aufgerufen: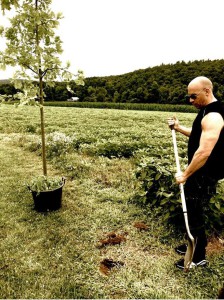 Plant a Tree for Groot (Groot ist der lebende außerirdische Baum aus Guardians of the Galaxy, der von Vin Diesel gesprochen wird).
James Gunn hat reagiert, einen Baum gepflanzt und die Fans des Films aufgerufen, auch einen Baum zu pflanzen. Bei 50 gepflanzten Bäumen will er 5000 Dollar für den Erhalt des Regenwalds spenden.
Also: Baum pflanzen, filmen/knipsen und bei Twitter oder Instagram mit #PlantATreeForGroot posten.